Marketing as an author feels complicated and convoluted, and for good reason:

There's so much stuff to get through. Tons of new content to parse every day. 
Let me do it for you.
Don't miss the stuff that matters...
I'll do the surfing. You do the writing. I'm pulling together sources including: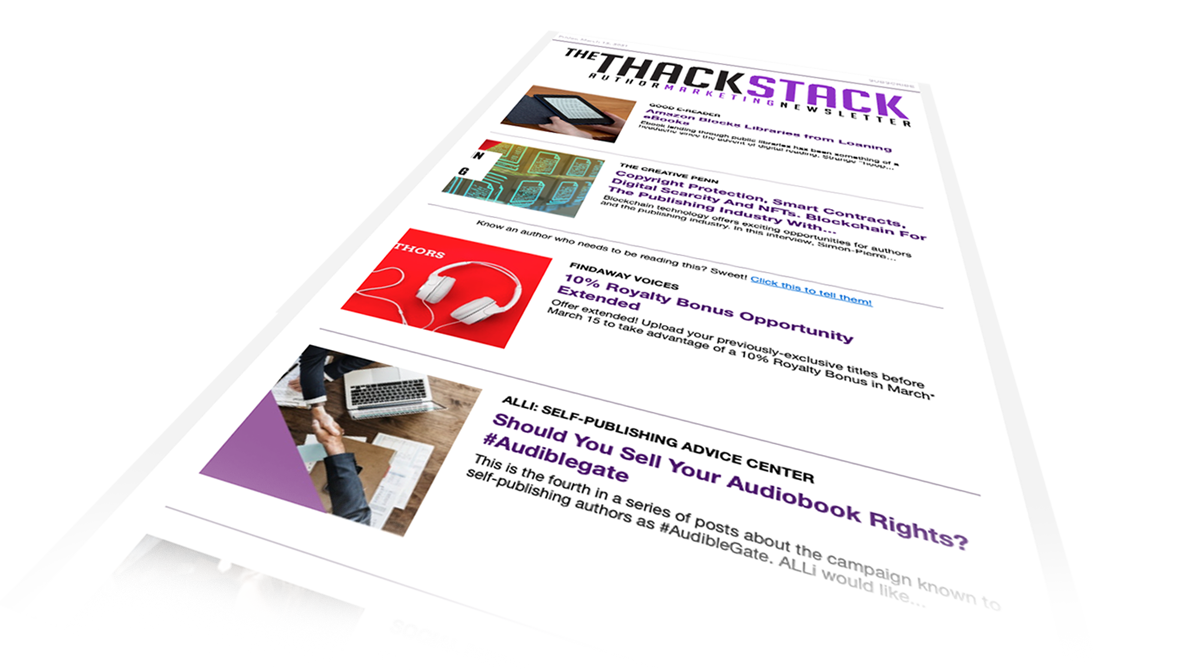 An author marketing newsletter sent every Tuesday.
Simple, no-BS signup, unsubscribe at any time, no spam, ever. You know the drill, so what are you waiting for?

Personalized and curated.
That's right. ThackStack might be a curated collection of author marketing sources I think you'll like, but the list you'll get is personalized to your tastes. 
That means if you tend to engage with articles I send about branding or AMS ads, I'm going to send you more articles about… branding and AMS ads. 
The more you engage, the better the curation.
My sources
Like you, I'm an author. Which means I've spent way too much time clicking around the internet, trying to dig up the next best article on how best to scale an ad campaign or how to set up a studio so I can narrate my own audiobooks. 
Now, I'm doing all that same stuff, but I'm pulling it all together and sending it to you, for free, every week. I'm curating things like: 
Personal blogs
Publishing and author news sites
YouTube channels
Facebook pages
Custom-written content
My background
I'm an author, just like you. I write action-adventure thrillers. Before all of that, however, I was a marketing guy. I had million-dollar ad spends, went to slick sales training seminars, and had to wear a suit to the office. 
…Yeah, I'm much happier now.
My promise
I wanted a way to get a bite-sized chunk of news that was relevant to me as an author trying to sell more books. Craft is important, but that's not what this about — this is marketing news, specifically for authors. For free, every week. 
My goal
There's a lot of information out there, and I've never been a fan of consuming news for entertainment's sake. I thought there should be a way to get the stuff we as authors want, without wasting time with the stuff that's not helpful. That's what ThackStack is all about.
The sources you know and trust
While the ThackStack will have a quick summary and introductory section, the news articles and links themselves will come from sources you've already heard of. The sort of stuff you'd read, if you had all the 

time

 in the world. My goal is to make it easier to process all of that into a single email. 
Start your week with ThackStack
Get the inspiration, tips, tricks, and advice you need, when you need it. At the beginning of your week 

—

 every week. Take your writing career to the next level!